The Most Instagrammable Places to Visit in Bali
The Most Instagrammable Places to Visit in Bali
Travelling is like an unforgettable experience that you cannot forget. That is why traveling is one of the best relaxations that we can do. When you are planning to go to Bali soon, you must think about several places that you should visit there. Visiting instagrammable places in Bali is might be a great choice to do. You can discover the stunning spot and also taking some beautiful pictures there. Bali tour operator can make your dream come true in discovering these places. We also provide you with the best guide that can accompany you. Here are the lists for instagrammable places to visit in Bali.
Campuhan Ridge Walk
As we know that Bali is an island that provides us with beautiful natural attractions to enjoy. One of the best natural attractions that you need to visit is the Campuhan Ridge Walk. It is located in a fairly and busy modern Ubud, the atmosphere of mountain valley hiking trail can be surely an amazing way in refreshing your mind. After nine-kilometer from the hill track journey, you can also accompanied by the stunning hillside sceneries and also the lush valley of Sunga Wos River. You may contact us at, Bali tour operator to visit Campuhan Ridge Walk.
Handara Golf Course Gate (Bali Gate)
Bali Gate is the most iconic gate in Bali, and it also becomes the most popular spot for Instagram posts. The Bali Gate represents the peaceful ambiance and also the stunning green scenery. Not only popular with its gigantic exotic of traditional Balinese gate, but you can also decorate your shots with the stunning silhouettes from the green hills as the background. You can make amaze your friends by taking some shots in Bali Gate. Bali tour operator is also able to help you in planning your trip to Bali Gate.
Pura Luhur Lempuyang
Pura Luhur Lempuyang also becomes the most favorite instgrammable spot for people. This temple is an ancient mountain temple located in the East of Bali. It also believed that this temple predates the majority of Hindu temples on the island which lies at 1,175 m above in the sea level. For those who are adventure seekers, then this is the perfect place for you. You can hike and enjoy the exotic archaeological site. Well, if you are not into the hiking, then you can still enjoy the view from the foot of the mountain. You can also contact the Bali tour operator to accompany you to hike.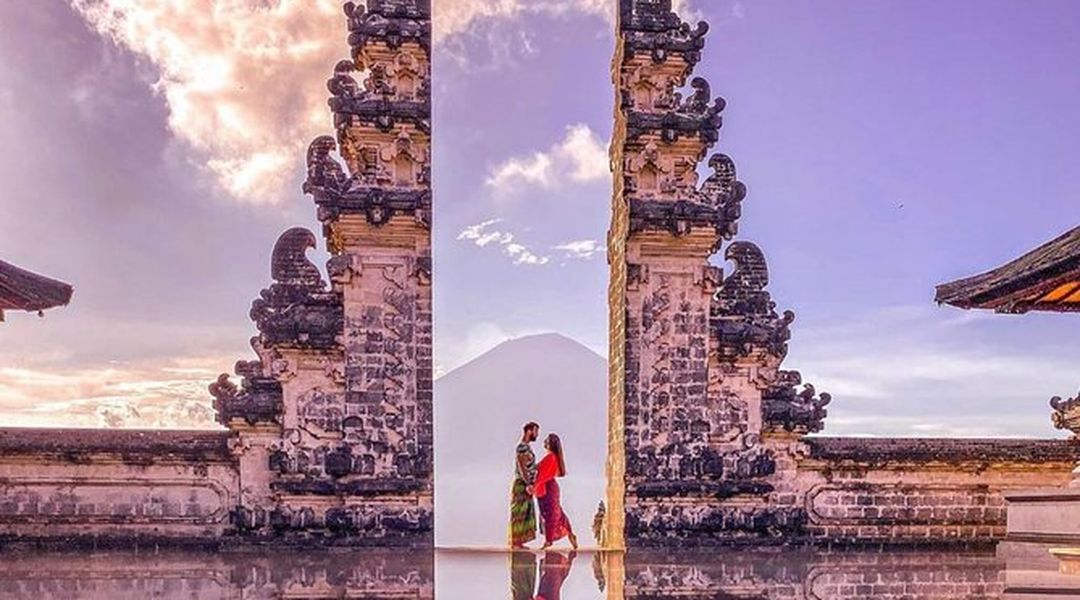 Tanah Lot
Tanah Lot becomes the most necessary landmarks in Bali. It is an exotic ancient Hindu shrine that perched on top of an outcrop that crashing by the waves. It is also popular with its unique for the offshore setting and also the amazing spots to enjoy the beautiful sunsets. Tanah Lot is always popular for the tourists when they are visiting Bali. It also offers you with Bali's culture, such as the traditional bags, cultural masks, and also the other kinds of souvenirs. Visit Tanah Lot with the tour from Bali tour operator, and I bet you will get an amazing experience with us. Do not forget to buy some souvenirs from Bali to decorate your home.
Well, of course, you do not have to worry about finding the amazing spots while you are in Bali. As we know, Bali is always filled with so many stunning places to discover and to take so many pictures as you want. You can use our service from the Bali tour operator to visit all of these instaworthy places. Even, we also provide you with Bali car rental to ease you for the matter of transportation. Well, you can travel without any worry with us!
WE are Happy to Help your Excursions Bali Tour with Friendly and professional driver..
So, what are you all waiting for? Lets BOOK now and GET BEST RATE NOW!
contact info:
email : [email protected]
WhatsApp : +6289526291915
website : https://www.balipujatour.com/
---
---